Navotua Village Homestay is a remote Fijian village in the Yasawa Islands, you'll experience nothing else like it on your island holiday.
Most people come to Fiji for a resort type vacation, sun, sand, relaxation, and a bit of pampering. But there is a different breed of tourist, the one that wants to experience the culture of a destination. To do that, you need to leave the confines of a resort and stay with the local people. Live where they live, eat what they eat, and get involved in their daily activities.
If that sounds like you, then why not consider doing a homestay while you're in Fiji? Taking a guided tour to a village gives you some small insight into how the local people live, but until you become a part of their family (if only for a few days) you can never really get an understanding of what daily life is really like.
What to expect from a village homestay at Navotua
Fijians have the reputation as the friendliest people on earth, and that really isn't an exaggeration. No matter how little they have, they are happy to share… that is a part of their culture and traditions. As a guest in their house or village, you will be welcomed and become a part of their extended family for the duration of your stay.
Why go to Navotua Village Homestay…
Experience the daily lives of a Fijian village
Eat real Fijian food
Learn first hand about the traditional way of life in a Fijian village
Enjoy a Kava ceremony
Meet the village kids and play games with them
Tour the village and meet the loals
The village is really close to the Sawa-i-Lau caves which is a MUST do activity
Located right on a fantastic beach
Visit the small village school and the church
Good hiking
Excellent swimming with crystal clear water
Includes all meals, breakfast, lunch and dinner plus afternoon tea and pancakes are served daily
Included in the price are FREE boat transfers from where you get off the Yasawa Flyer or the Seabus.
Who is it best suited to…
Anyone wanting to experience living in a real Fijian village
Families will enjoy the stay
Things you need to know about Navotua Village Homestay…
No power
No hot water
The water is clean rainwater in the village, but it might be a good idea to use bottled water, bring your own or can be available in the village shop.
No wifi but there is internet if you have your own SIM
You'll need to get transfers on the Yasawa Flyer which you can book here
Visitors are advised to present a Sevusevu (kava root) to the chief upon arrival. You can get a kava root at any marketplace in mainland Fiji (in Yasawas it is more expensive).
Please do not wear sunglasses or hats in the village.
Women should be modestly dressed while inside the village. Outside the village you can do whatever you like.
Navotua Village reserve the right to allocate guests to either 

Navotua or Malakati village, as per availability. All facilities, rates and the general "look and feel" are identical in both villages, and both villages are located on the same island. 

Minimum of 2 nights.
Note: Navotua Village reserves the right to allocate guests to Navotua, Malakati or Naisisili village, as per availability. All facilities, rates and the general "look and feel" are identical in all villages, and all villages are located on the same island.
Book your stay at Navotua Village Homestay here:
We are sorry, there are no reviews yet for this accommodation.
Yasawa Islands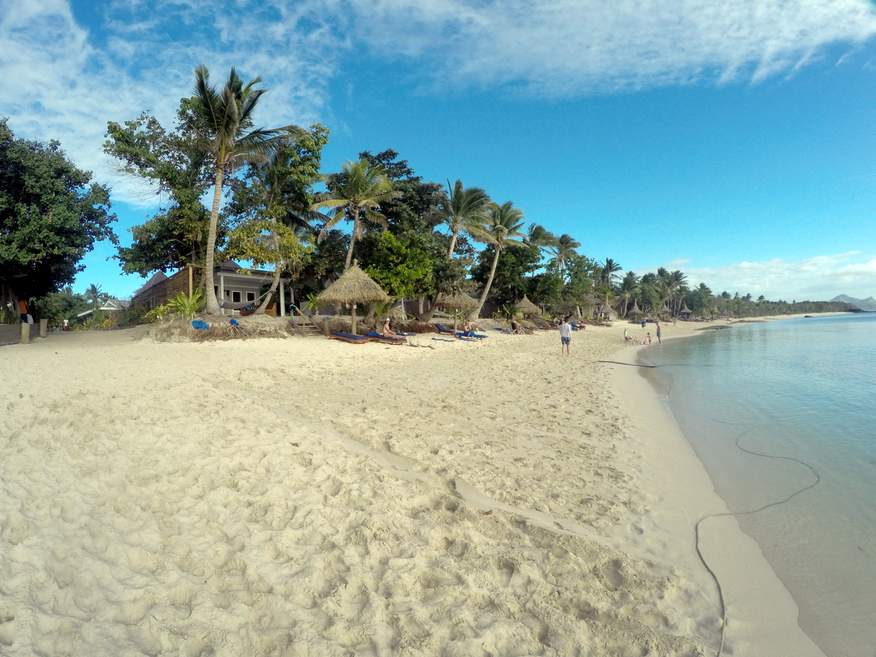 The remote Yasawa Island Group make up Fiji's western border.  The group's statuesque islands are mostly high, grass-covered islands, with brilliant porcelain beaches and water painted in a palette of blues. Rugged, remote and more dramatic than the sugardrop islands of the Mamanucas, the mighty Yasawas were once off-limits to all but those determined to play
Culture and history info
History The British navigator William Bligh (after which Bligh Water was aptly named) was the first European to sight the Yasawas in 1789, following the infamous mutiny on the HMS Bounty. Captain Barber in the HMS Arthur visited the islands in 1794, but they were not charted until 1840 by a United States expedition commanded by Charles Wilkes. The Yasawas weren't always tourism orientated. Visiting the islands once was limited to cruise ships, with passengers unable to actually set foot on the islands until the 1950s, and land-based tourism ventures restricted until 1987.  However, thanks to the Government providing an ecotourism startup fund and the arrival of the Yasawa Flyer, the Yasawas are now dotted with small resorts and backpackers.
---
Read more
Booking
Book your stay at Navotua Village Homestay here:
The Facts
Payments...
We only take a small deposit now and you pay the balance due on arrival at Navotua Village. Please take cash only.
No Booking Fees or Credit Card Fees on your deposit with us.
Payment is secure, look for the green pad lock in your browner bar.
No "Fiji time" here, we're on the computer all day everyday making sure bookings are processed really fast
As soon as you book we'll send you an "Order Pending" email to say we have received it. No money is taken yet. We then book your trip (as fast as humanly possible), take the deposit, then send you a second "Order Confirmed" email with all the important details of your trip, pick up times, booking reference number etc. You'll need to print the second email out and bring it with you or be able to show it on a mobile device.
Your credit card is stored in our booking systems secure vault and will automatically be deleted 30 days after your tour.
We're based right here in Nadi, Fiji
Cancellation...
If you cancel for any reason within 3 days of departure we are unable to give you a refund PLUS you will have to pay the full balance owing on the order. We will automatically deduct the balance from your credit card.
If you cancel before 4 days there will be a cancellation fee of 20% of your deposit.
We highly recommend you have travel insurance to cover any possible cancellations.